Wi-Fi® Connected Roomba® i6+ Self-Emptying Robot Vacuum
Wi-Fi® Connected Robot Vacuum that learns your home and cleans when and where you want, even the specific area near your sofa.
Clean targeted mess the moment it happens
Learns and maps your home. Cleans when and where you want
Delivers 10x power-lifting suction*
Customize with iRobot OS and voice assistant integration
Focuses on the dirtier areas with Dirt Detect™ Technology
Wi-Fi® Connected Roomba® i6+ Self-Emptying Robot Vacuum
What makes the i6+ different?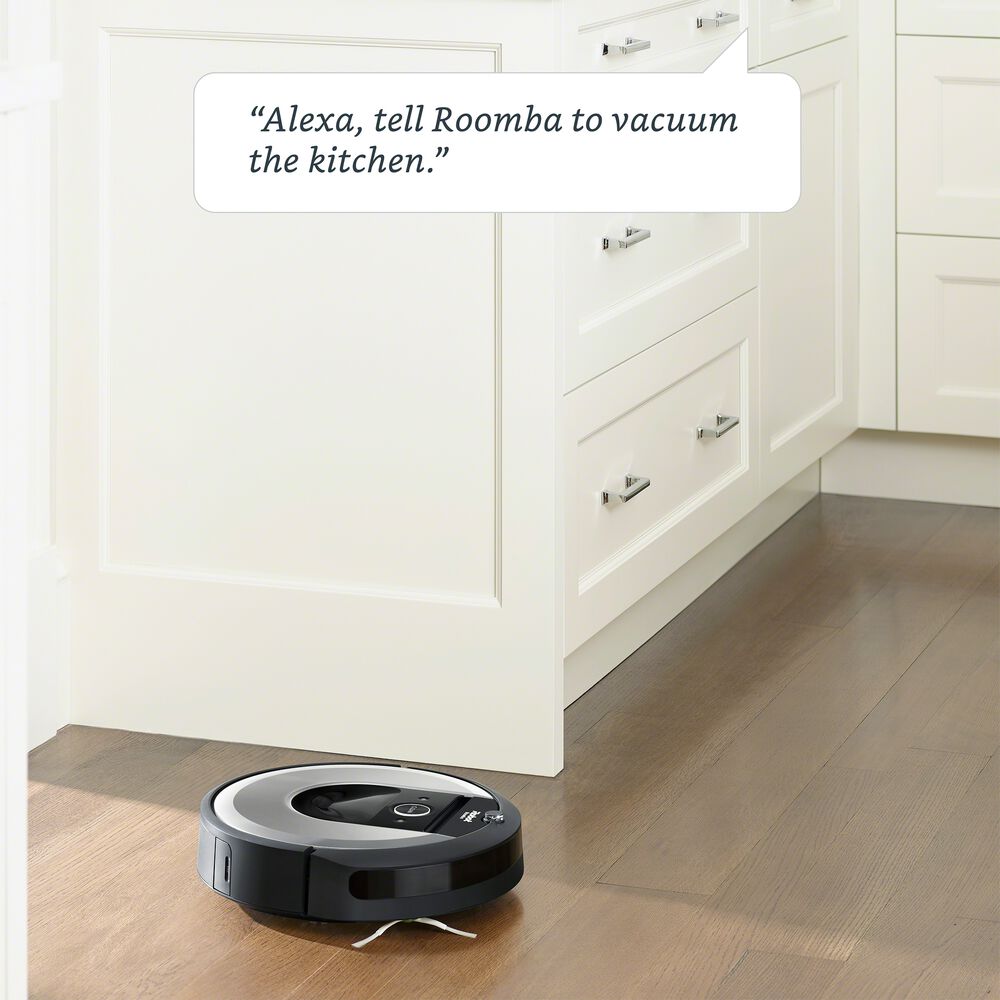 Spot-cleans mess the moment it happens
Cleaning crumbs is now as easy as "Roomba, clean under the kitchen table". This intuitive experience only from iRobot means that a request to your voice assistant or via the iRobot Home App enables the Roomba® i6+ Robot Vacuum to clean up mess for you, right when it happens – immediately clean that spot and consider it done.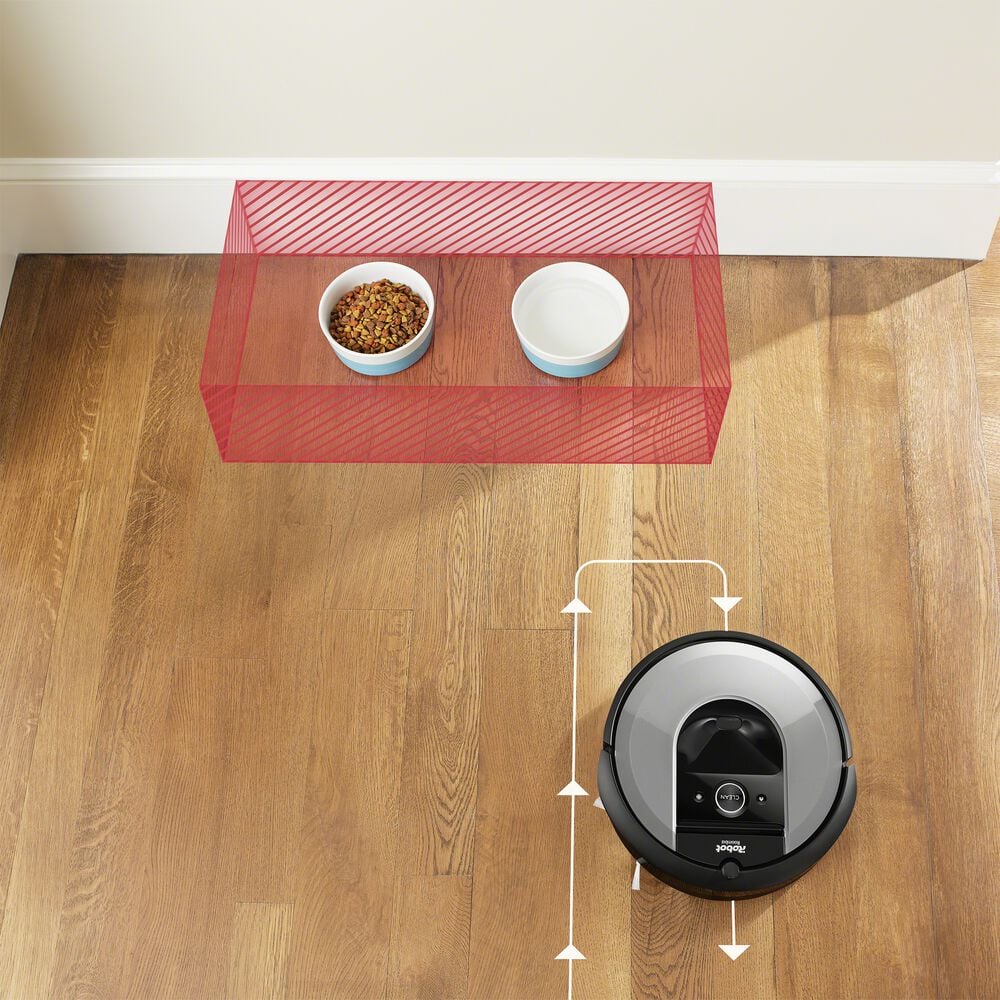 Cleans when, where and how you want
Keep the messiest areas of your home tidy while leaving the tricky areas alone. Roomba® i6+ Robot Vacuum knows the study from the sofas thanks to Smart Mapping, so you can make Clean Zones to direct cleaning to high-traffic areas. Plus, creating Keep Out Zones means that the Roomba® i6+ Robot Vacuum avoids certain spots, like pet food bowls.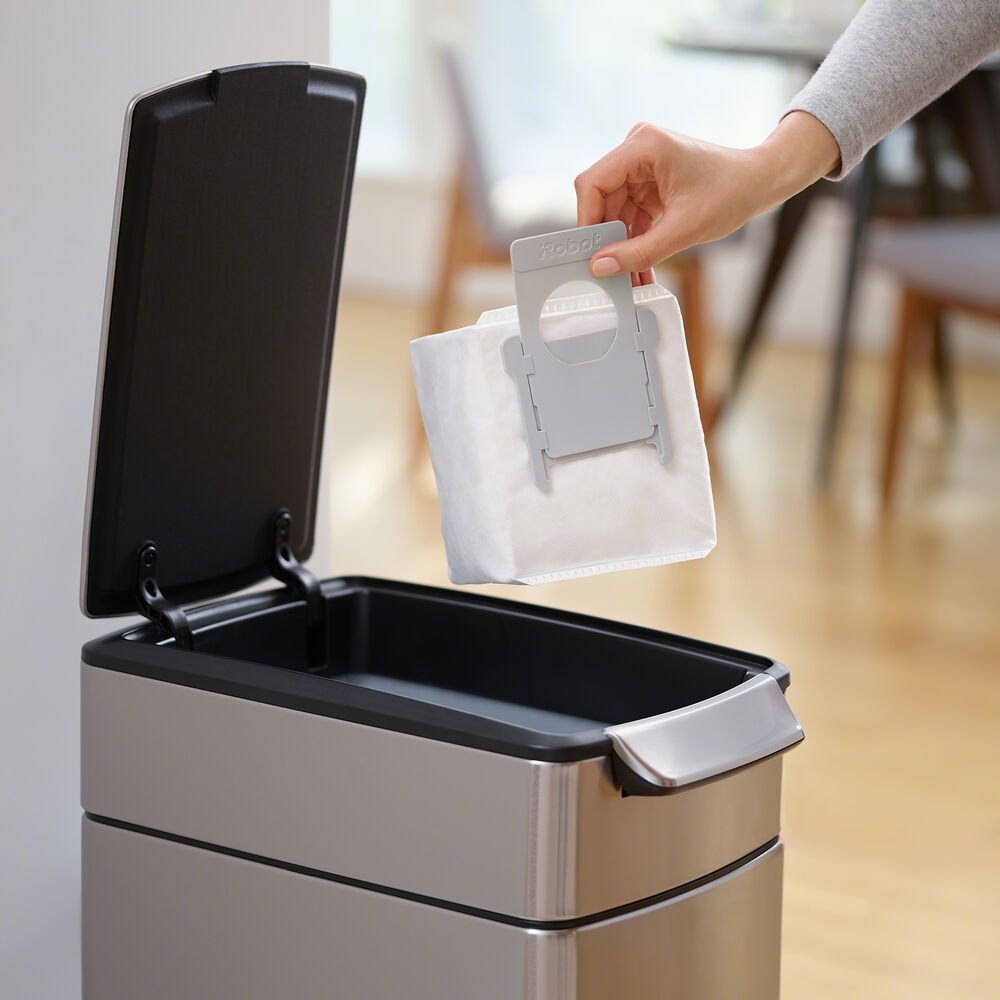 Automatically empties its bin on its own with enclosed bag system
Forget about vacuuming for months at a time with the Clean Base® Automatic Dirt Disposal , which allows the Roomba® i6+ Robot Vacuum to empty itself for up to 60 days. Dust stays out of sight and your hands stay clean.
A closer look at the i6+
We clean professionally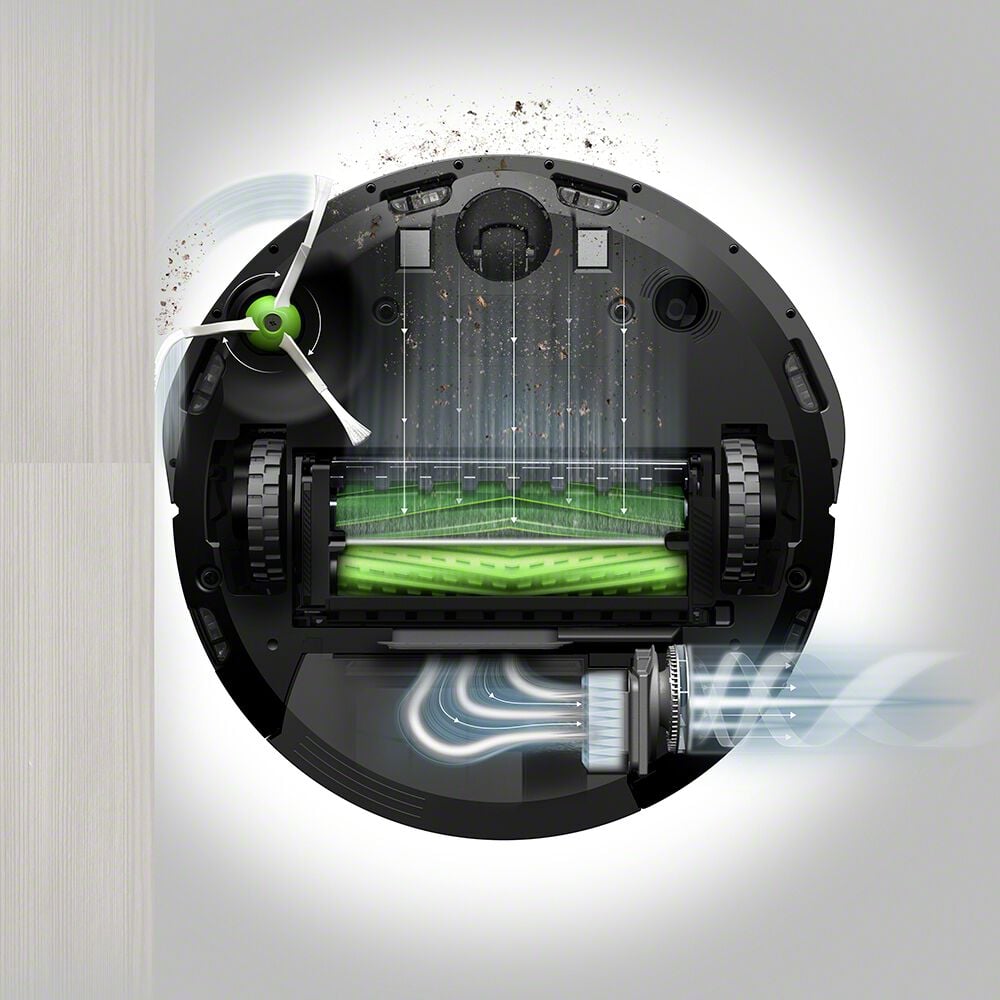 Attacks mess using our powerful, proprietary cleaning system.
Powerful 3-Stage Cleaning System packs 10x the Power-Lifting Suction1, an Edge-Sweeping Brush gets along walls and corners, and Dual Multi-Surface Rubber Brushes vs only 1 flex adjusts to different floor types and avoids getting tangled with pet hair.
1/4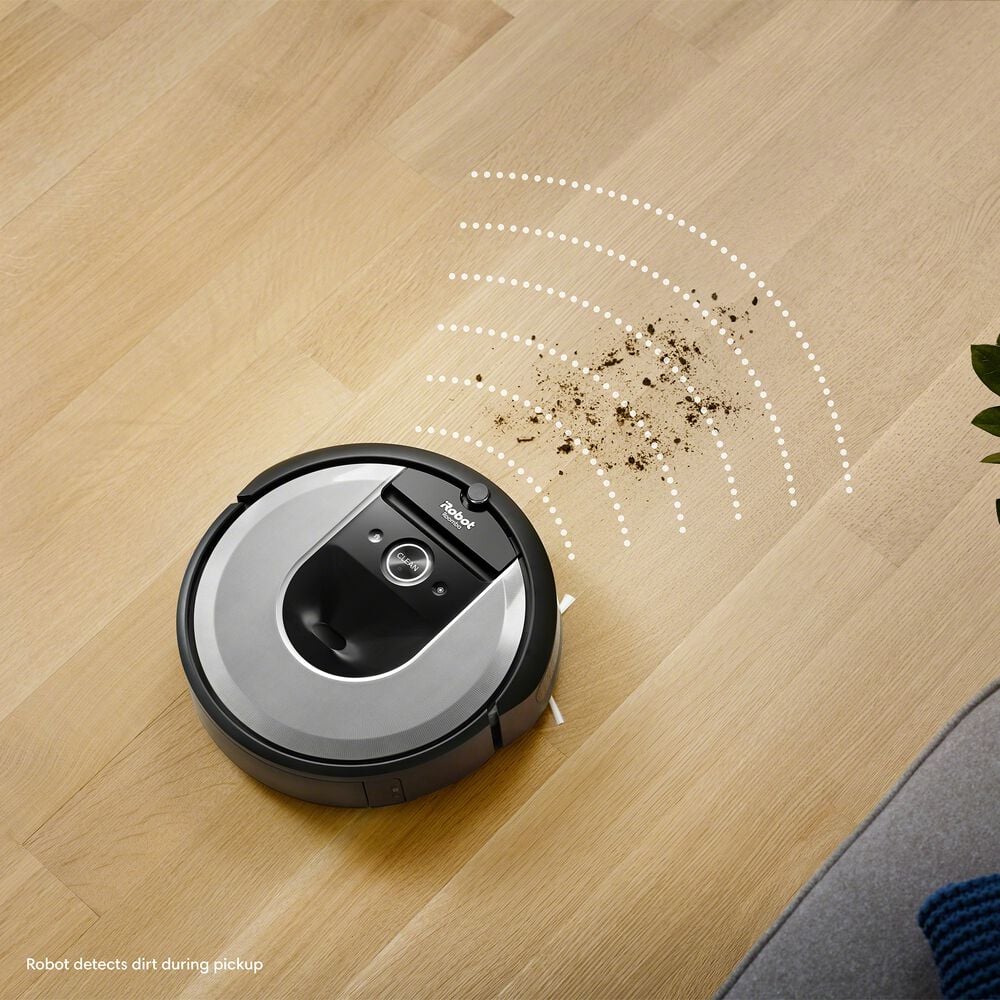 Cleans dirtier spots more thoroughly.
Only iRobot offers Dirt Detect™ technology to focus on the dirtier spots, like the high-traffic areas of your home.
2/4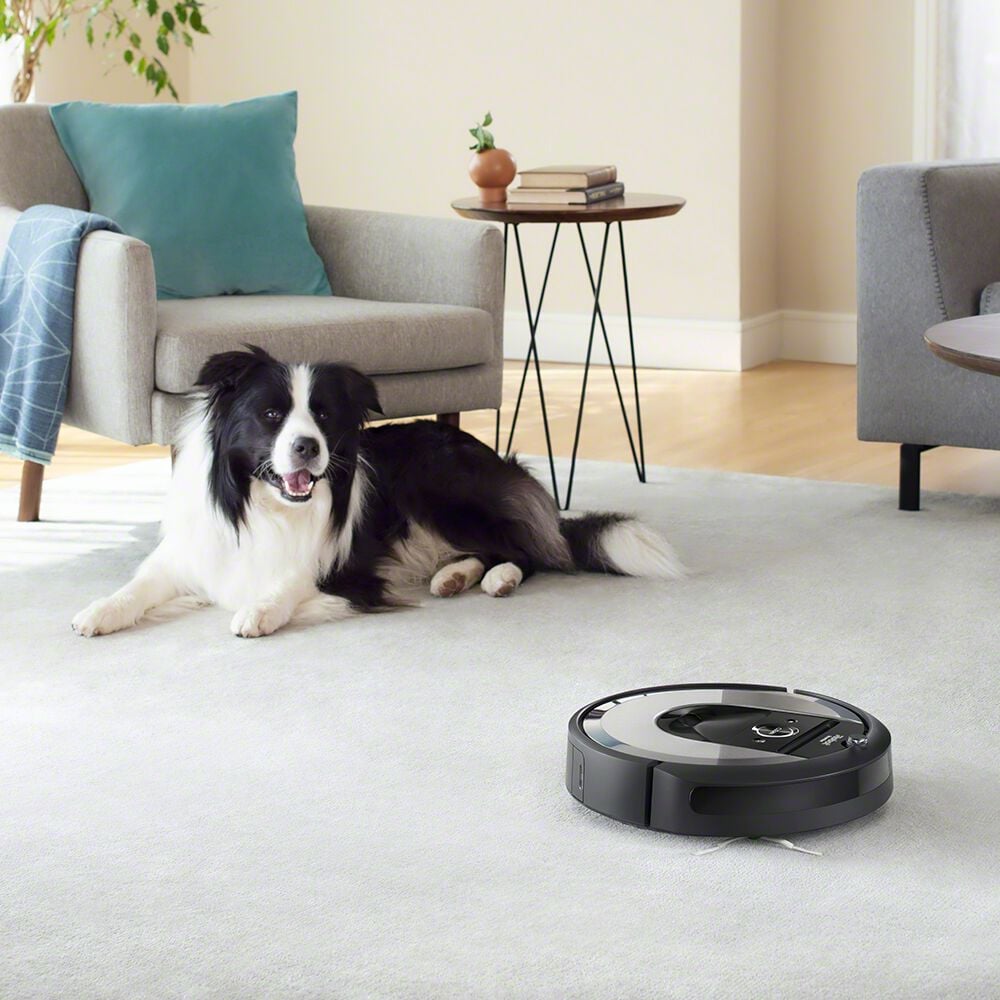 Doesn't get hung up. Just gets it done.
A full suite of advanced sensors allow this robot to navigate under and around furniture and along edges, while Cliff Detect keeps it from falling down the stairs.
3/4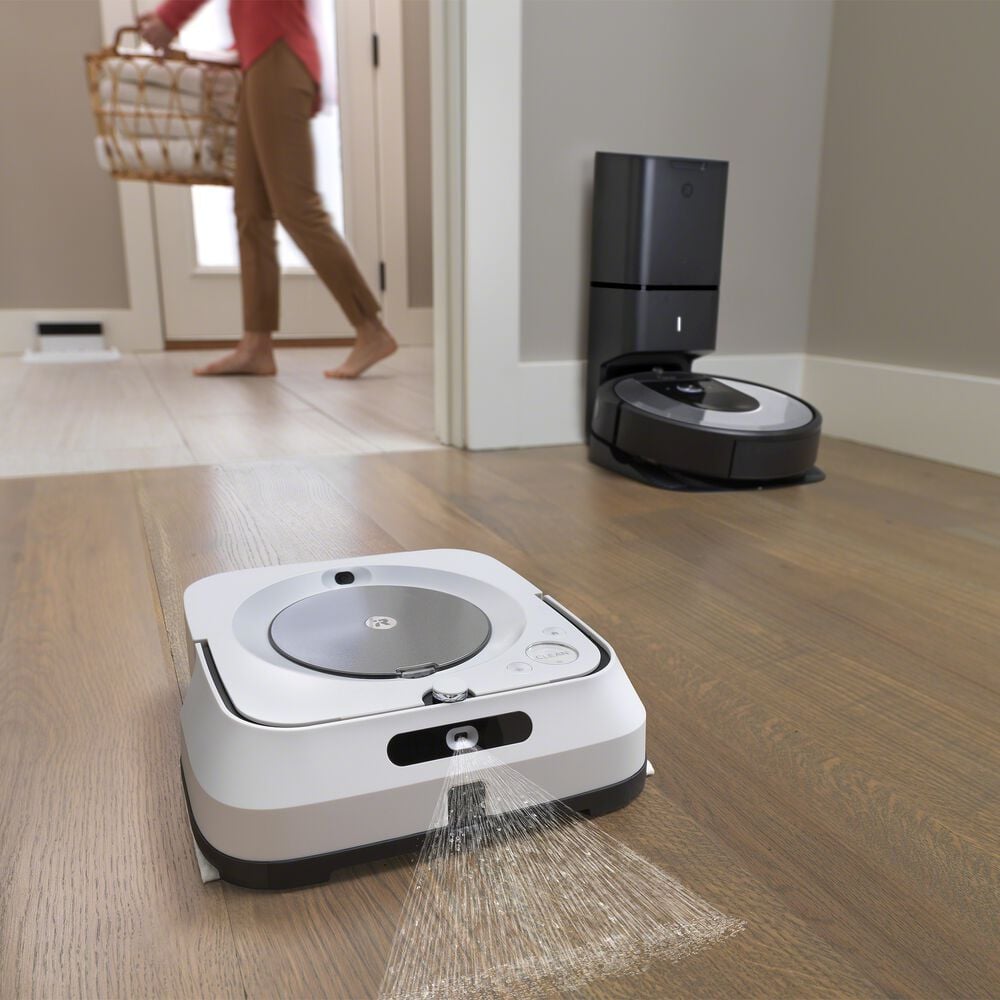 The dream team of clean.
Take vacuuming and mopping off your to-do list – all at once. With Imprint® Link Technology, your Roomba® i6+ Robot Vacuum and Braava jet® m6 Robot Mop can team up to vacuum and then mop in perfect sequence, giving your floors a comprehensive clean without any effort from you.
4/4
iRobot OS powers your robot to do more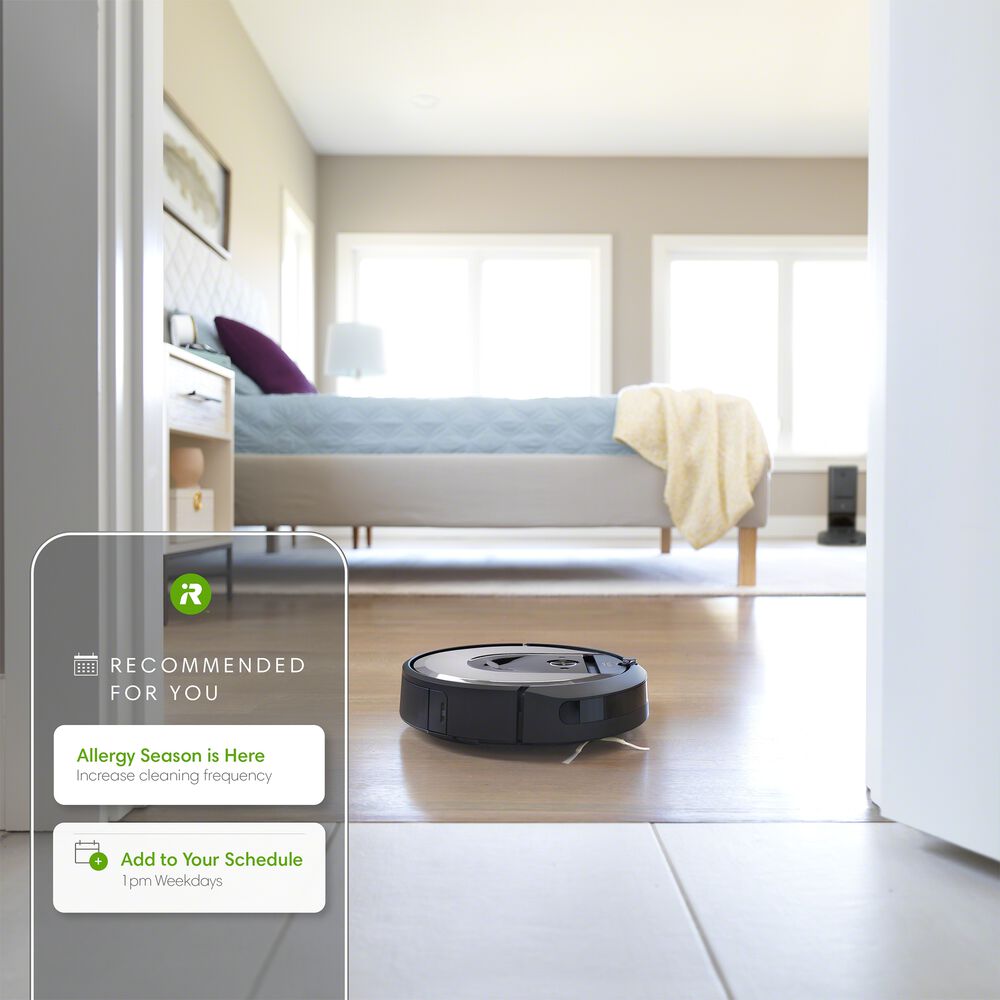 A clean unique to you
You can focus on your busy schedule and rely on the intelligence of the Roomba® i6+ Robot Vacuum to take care of the cleaning. It learns where and when you normally clean to offer personalized schedules, even suggesting extra cleaning during allergy or pet-shedding season.
1/3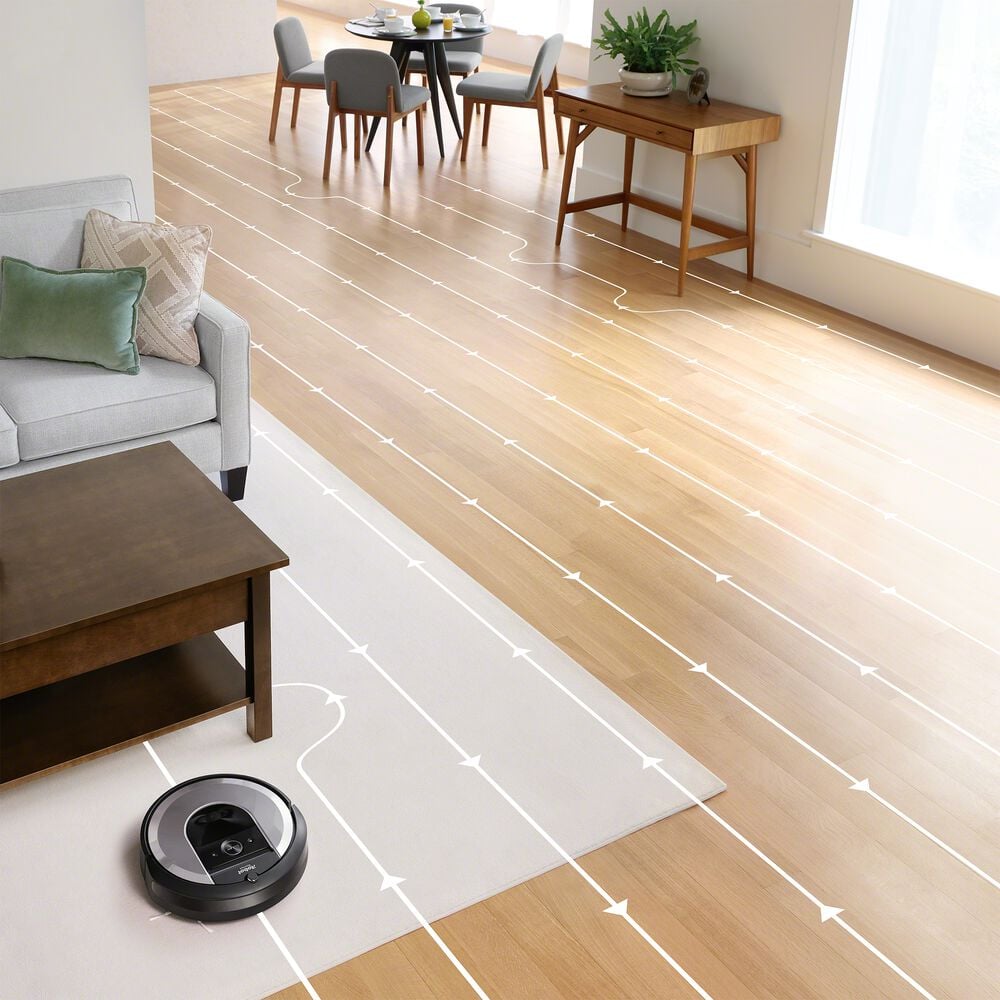 Guided by serious smarts
For a thorough, efficient clean, the Roomba® i6+ Robot Vacuum learns your home's layout to build Smart Maps. It uses these maps to clean in neat rows and to remember where it left off when the battery was low, using Smart Recharge and Resume to charge enough to finish the job and quickly return to where it left off.
2/3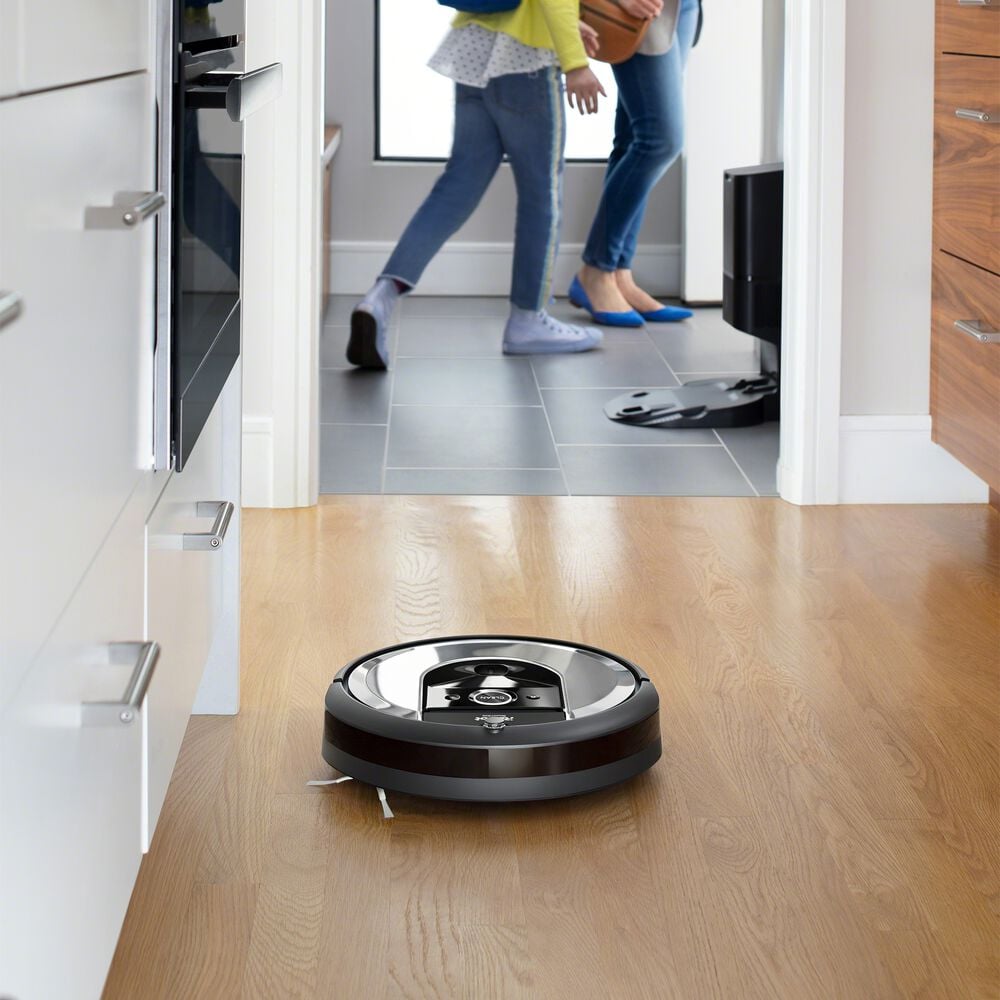 Set to automatically clean when you're away
With iRobot OS, you can choose to set your robot to automatically start cleaning when you leave and stop when you come home, so you only notice the clean and never the cleaning.
3/3
We care about you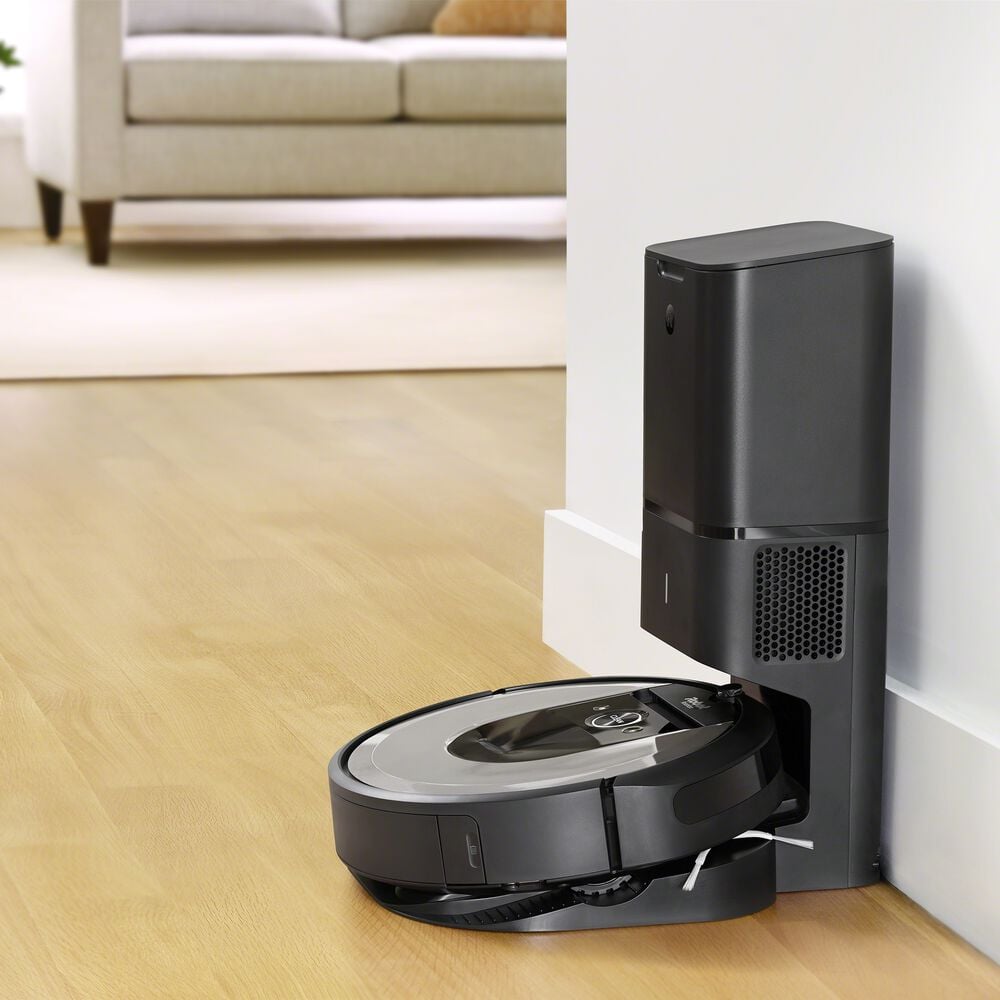 Quality that lasts. Intelligence that grows
Your robot never stops getting smarter because it constantly receives innovations in its software with the latest tech and groundbreaking features, thanks to iRobot OS.
1/3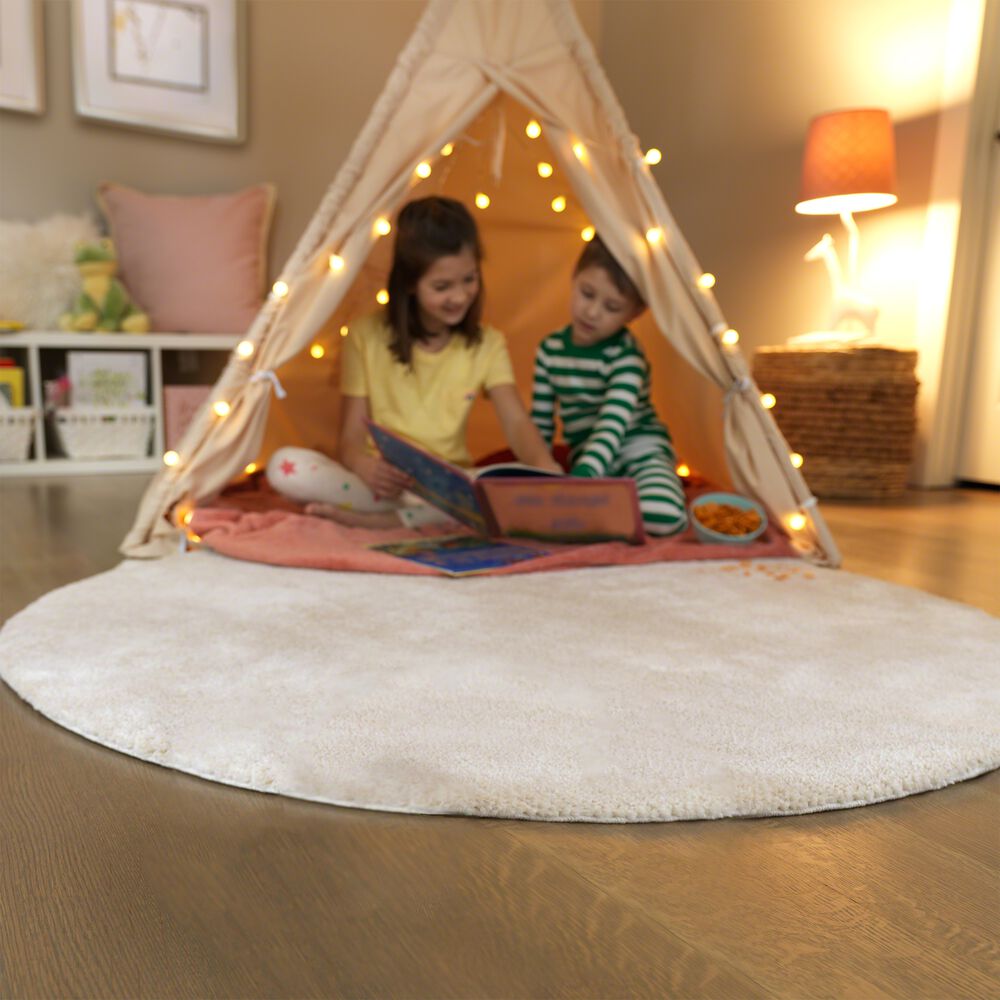 Keep your home clean and your data safe
iRobot customers have welcomed our robots into their homes to provide a safe, effective cleaning service. Our respect for your personal space extends from the physical to the virtual by using only the highest data security standards: iRobot always uses the highest standards of data encryption, backed by our promise to keep your information safe. It uses the data to provide a better experience and to help your robot perform at its best.
2/3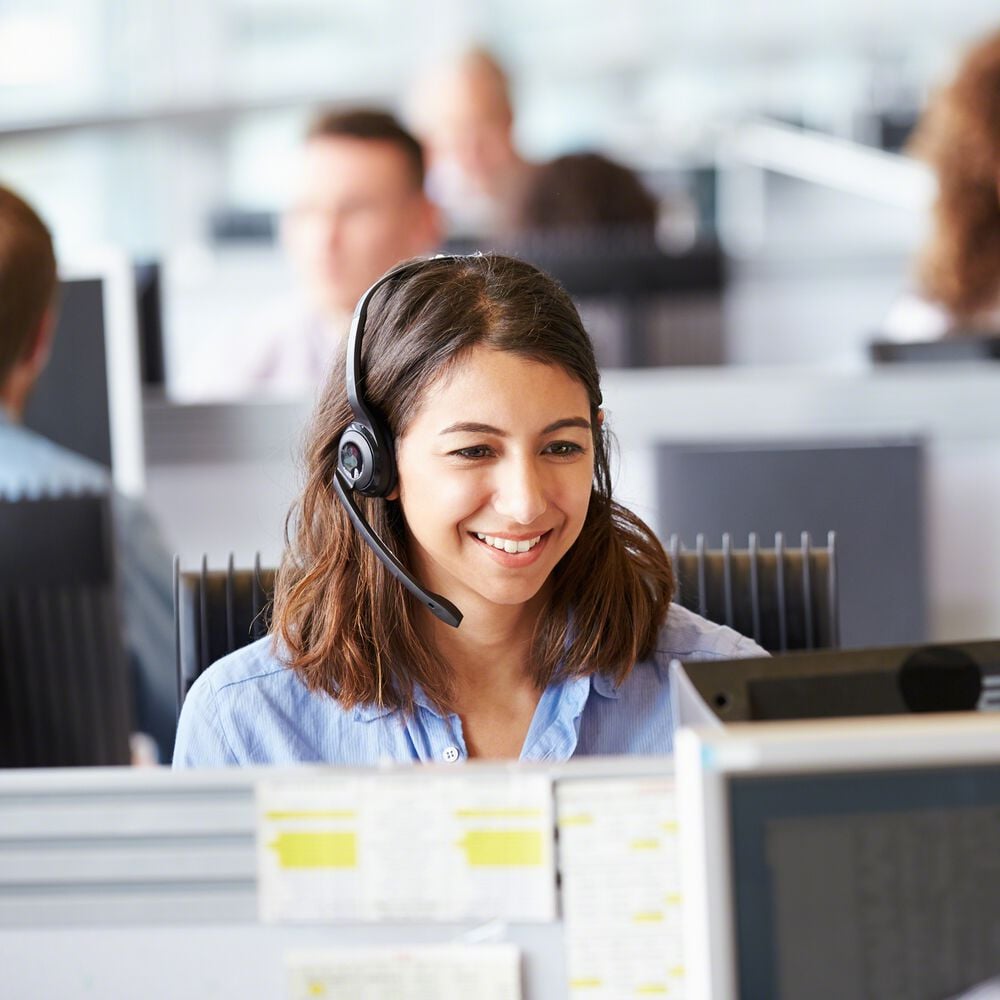 Over 30 years of robotics expertise and continuous innovation
iRobot has over 30 years of robotics expertise and innovation with over 30 million home robots sold worldwide. The iRobot promise has meant dependability backed by a responsive service. If you ever need help, we make it easy with specially trained Customer Care agents available by phone or email to answer your questions.
3/3
What's in the Box:
1 Roomba® i6+ Robot Vacuum
1 Clean Base® Automatic Dirt Disposal
1 Dirt Disposal Bag
Specifications:
Retail box Dimensions:
16.52 x 19.63 x 15.75
Box Weight:
26.5 lbs.
Robot Weight:
7.44 lbs.
Robot Dimensions:
13.34 inches width x 3.63 inches high
Battery Type:
Lithium Ion
Clean Base® Automatic Dirt Disposal:
12.2" W x 15.1" D x 19" H
The iRobot limited warranty shall not apply to failures or problems which are caused by products or equipment not authorized by iRobot Corporation.
Robot products purchased in North America are intended for use in North America only. Both the 60-day, money-back guarantee and the limited warranty are void if products are used outside North America.
Q. How does the cleaning performance of the Roomba® i6+ Robot Vacuum compare to other iRobot models?
A. Power-Lifting Suction delivers 10X the air power* for improved pick-up performance. Premium 3-Stage Cleaning System cleans the dirt and pet hair you see and the allergens and dust you don't.
Q. How smart is Roomba® i6+?
A. Powered by iRobot OS, the i6+ learns from your cleaning habits to offer up customized schedules. It will even suggest an extra clean when your area's pollen count is high or during pet shedding season.
Q. How often does the Clean Base® Automatic Dirt Disposal need to be emptied?
A. Clean Base is designed to hold up to 60 days of dirt and debris. Results will vary based on floor surfaces, whether you have pets, etc.
Q. Does the Clean Base® Automatic Dirt Disposal work with previous Roomba® robot vacuum Models?
A. It only works with other i Series Roomba® robot vacuum models. Roomba® i series are equipped with a dust bin that is specially designed for use with the Clean Base unit.
Q. Is the robot bin dishwasher safe?
A. No. The washable bin should be rinsed by hand using warm water. Important: Be sure to remove the filter before rinsing the bin. Allow the bin to dry completely before reinstalling the filter.
Q. Product Warranty?
A. The warranty is 1 year.
*Compared to Roomba® 600 Series.
iRobot.ca makes holiday shopping easy
Free shipping & returns on all robots
Your Privacy Is our Priority
Award-Winning Customer Care