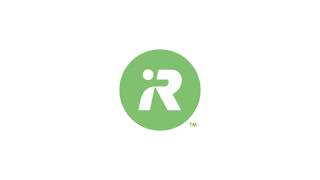 ▶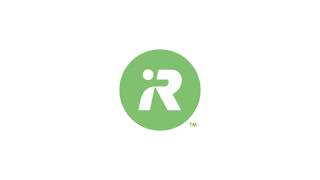 ▶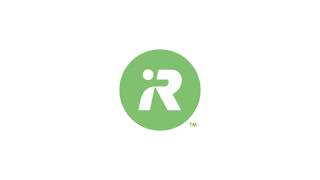 ▶
Identifies and avoids obstacles like pet waste & cords so there is less pick up needed before cleaning starts. Thoughtful intelligence with iRobot OS software. Ideal for homes with pets.
Avoids pet accidents on purpose
Identifies obstacles, avoids hazards
Clean targeted mess the moment it happens
Robot Vacuum with mapping. Cleans when and where you want
Delivers 10x power-lifting suction¹
What makes the j7/j7+ different?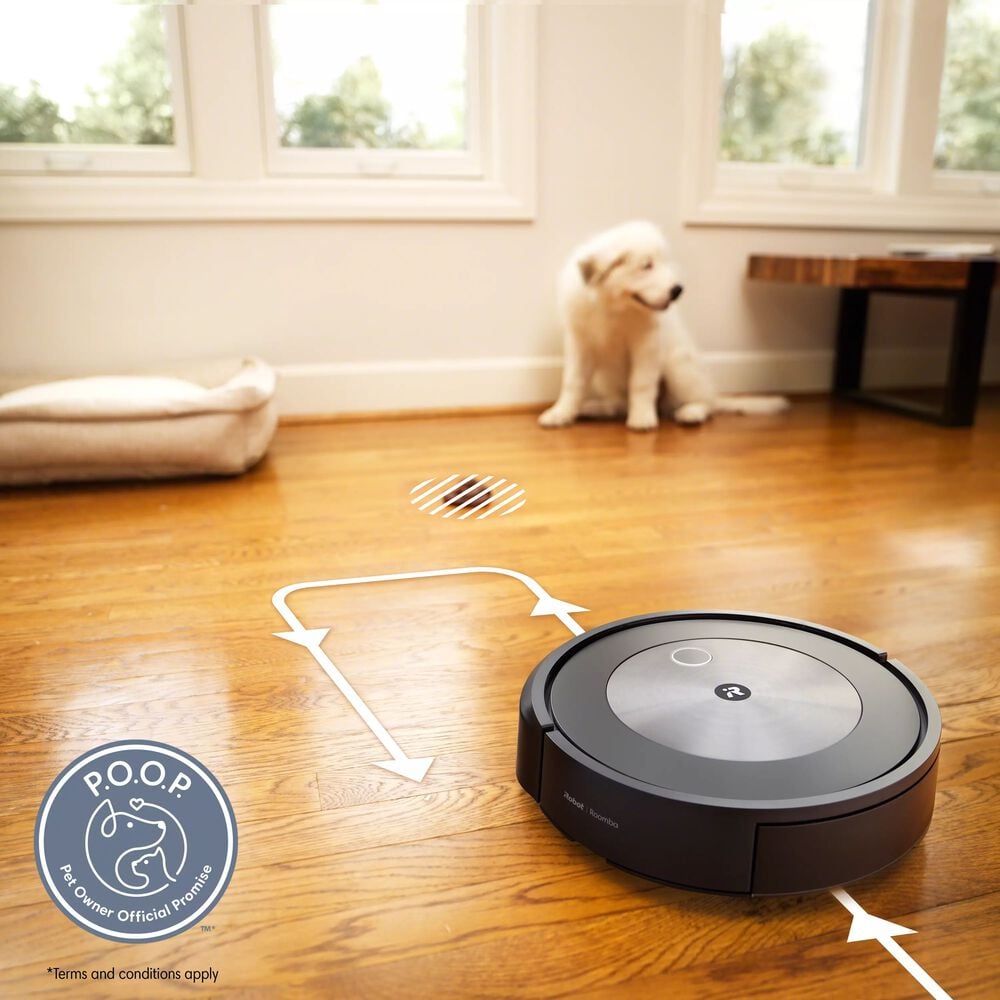 iRobot OS
Avoids pet accidents on purpose – we guarantee it
Only iRobot brings you P.O.O.P. (Pet Owner Official Promise)*. You can rely on your j7 to avoid pet waste, or we'll replace it for free.
*Offer valid for one year from purchase and covers replacement product only. Valid only for solid cat or dog waste. Additional terms and conditions apply – see https://about.irobot.com/en-ca/legal/terms-and-conditions#promise for full details.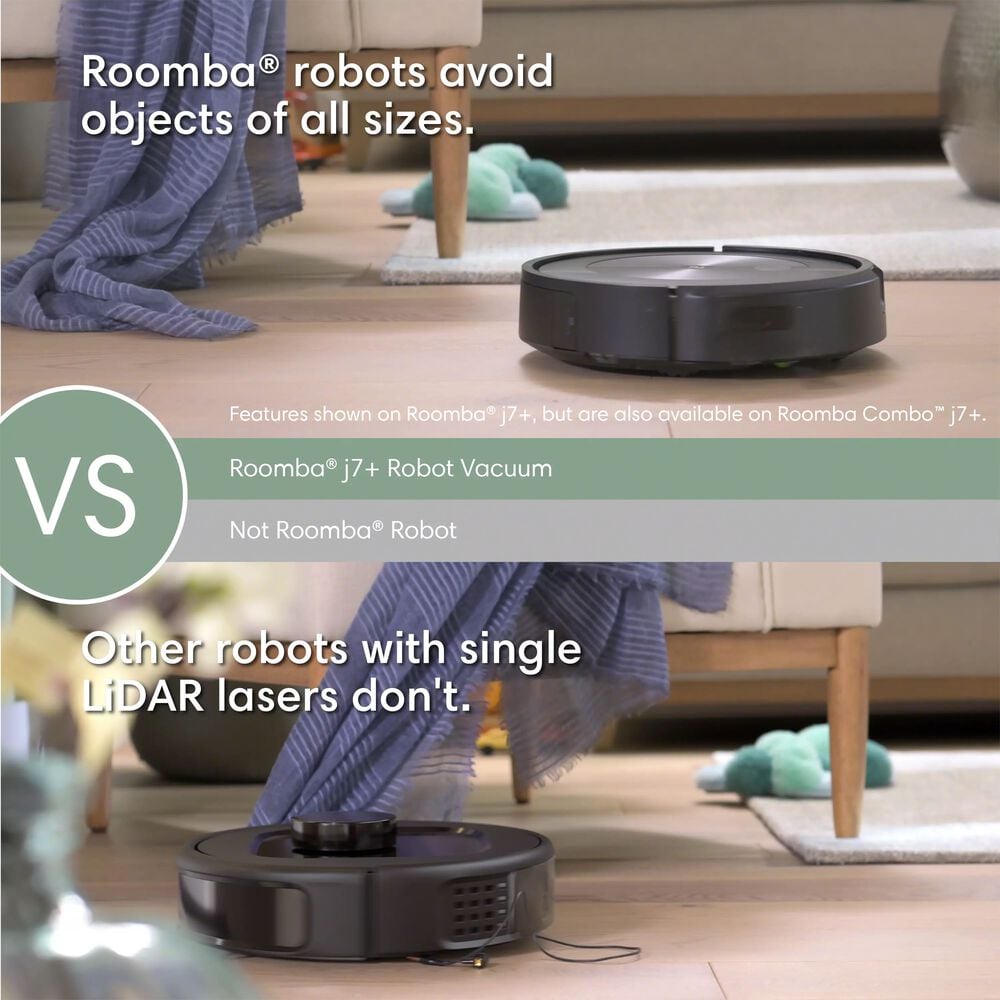 iRobot OS
Object detect and object avoidance
Obstacles like pet waste, charging cords and shoes don't get in the way of the j7/j7+ finishing the whole job because it uses PrecisionVision Navigation to recognize objects. When it first spots them, it will send you a photo so that you can tell it to avoid or clean around the obstacle in the future. It doesn't just learn your home; it reacts to it in real time. ​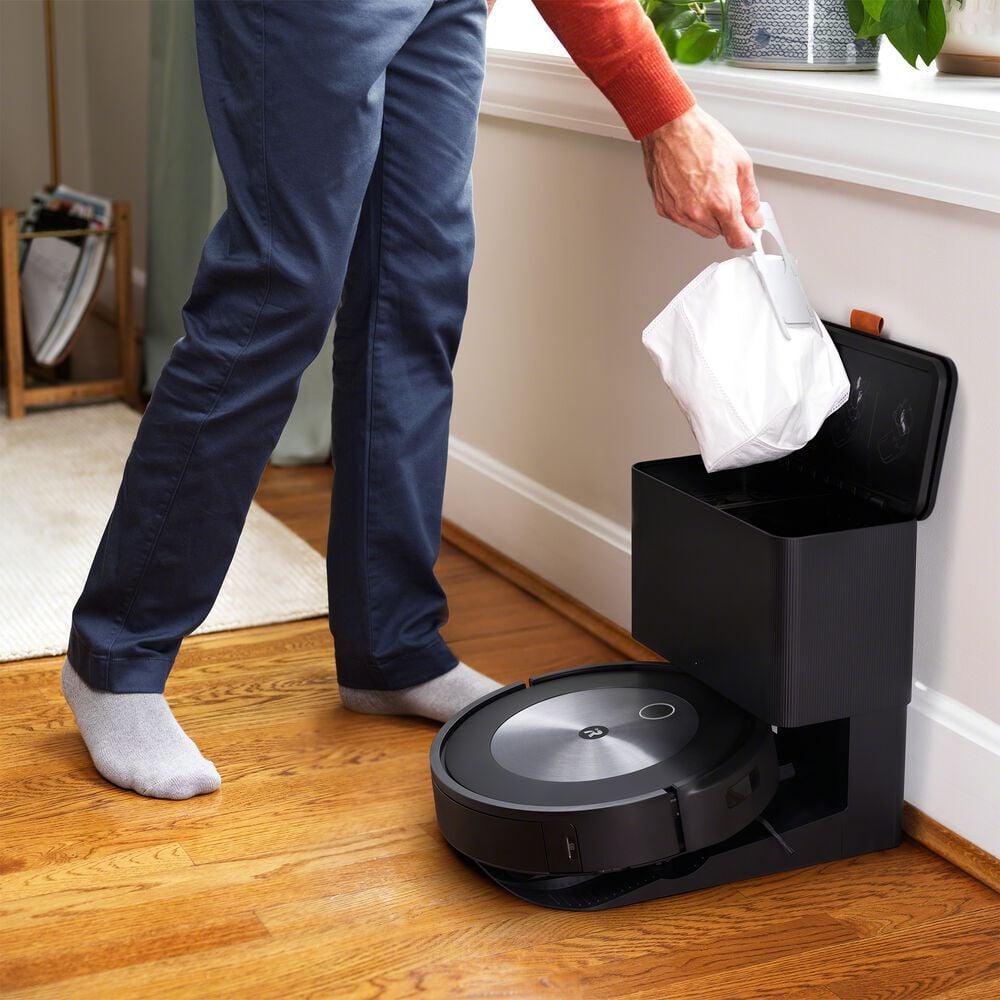 Automatically empties its bin on its own with enclosed bag system
Forget about vacuuming for months at a time with the Clean Base® Automatic Dirt Disposal (sold separately for the j7) that allows the Roomba® j7+ Robot Vacuum to empty itself for up to 60 days. Enclosed bags capture and trap 99% of pollen and mold. Dust stays out of sight and your hands stay clean.
A closer look at the j Series
We clean professionally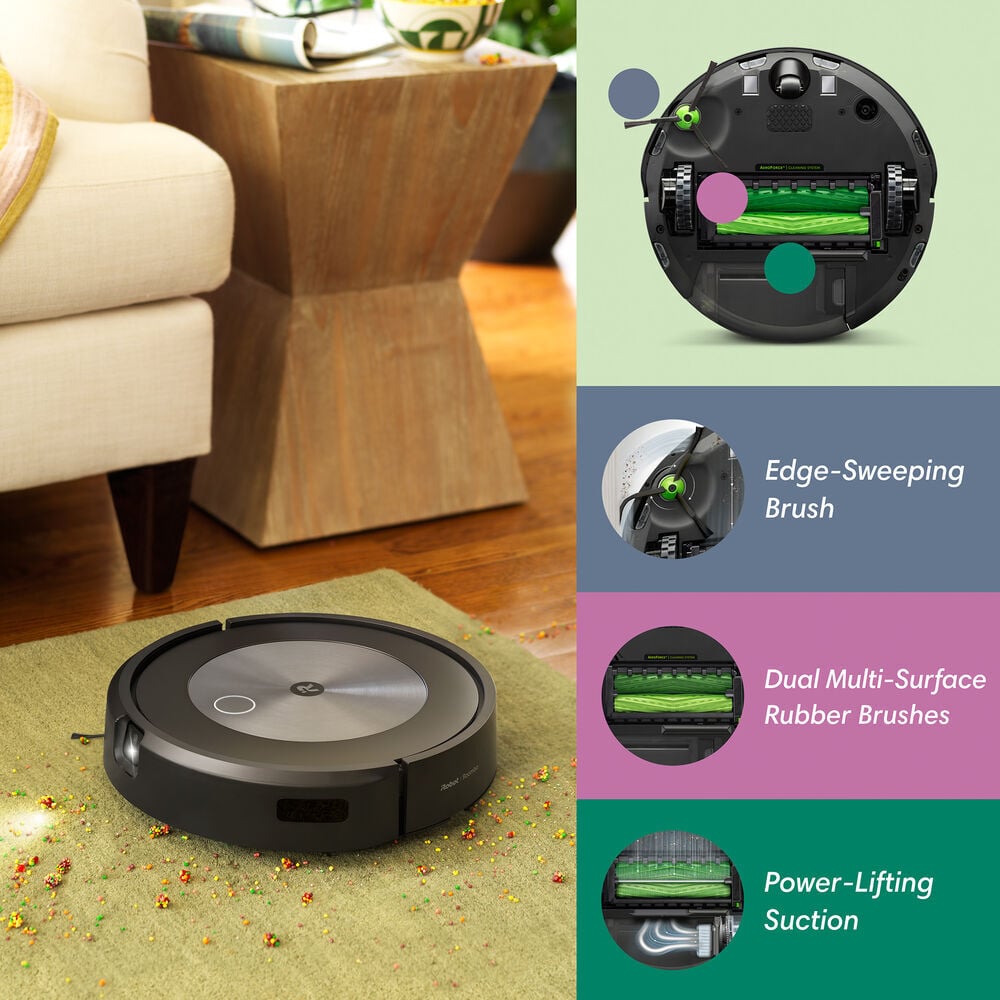 Attacks mess using our powerful, proprietary cleaning system.
Powerful 3-Stage Cleaning System packs 10x the Power-Lifting Suction1, an Edge-Sweeping Brush gets along walls and corners, and Dual Multi-Surface Rubber Brushes vs only 1 flex adjusts to different floor types and avoids getting tangled with pet hair.
1 Compared to the Roomba® 600 Series Cleaning System
1/4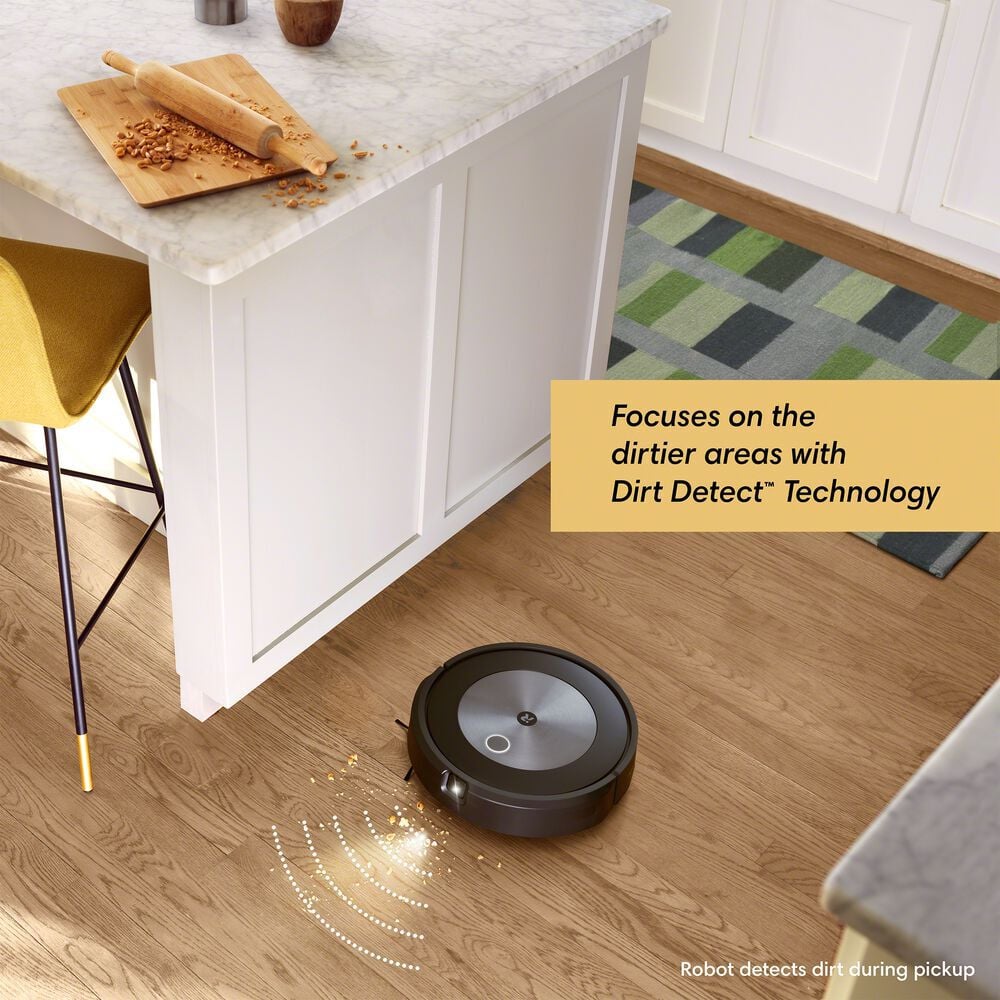 Cleans dirtier spots more thoroughly.
Only iRobot offers Dirt Detect™ technology to focus on the dirtier spots, like the high-traffic areas of your home.
2/4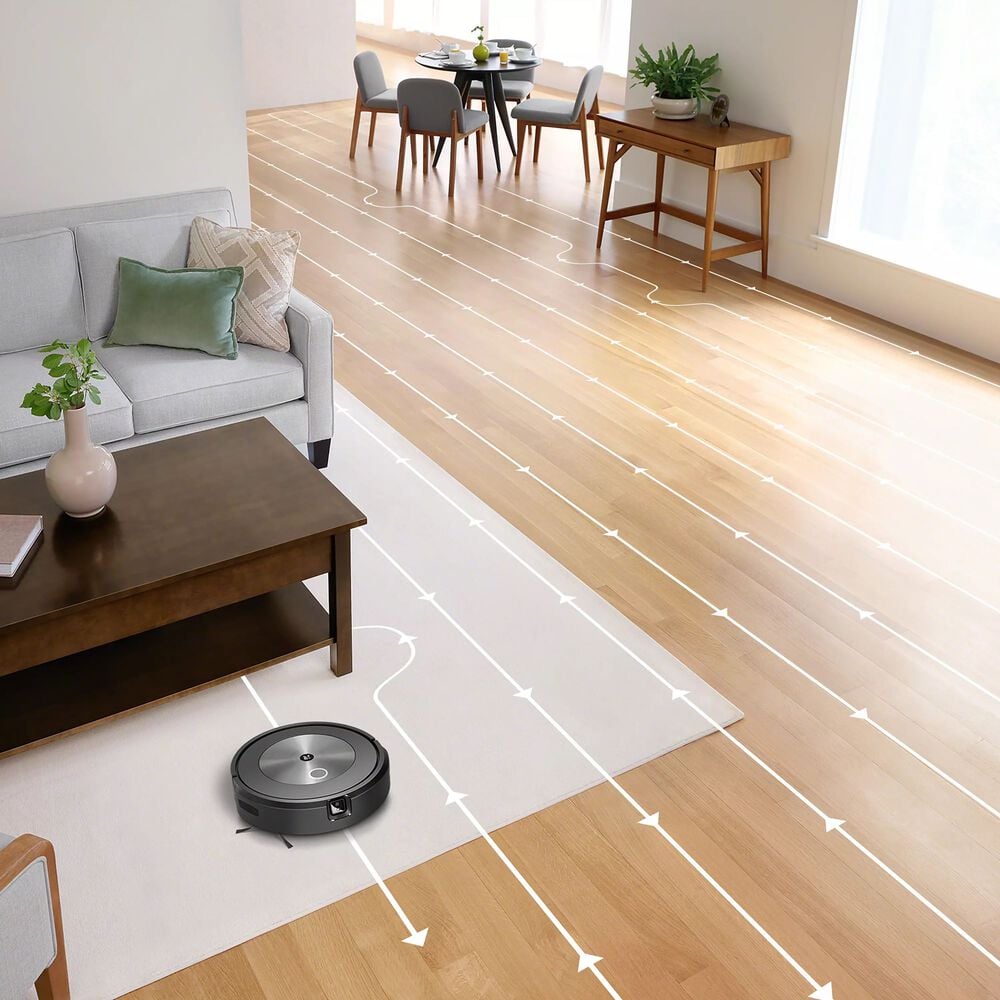 Doesn't get hung up. Just gets it done.
A full suite of advanced sensors allow this robot to navigate under and around furniture and along edges, while Cliff Detect keeps it from falling down the stairs.
3/4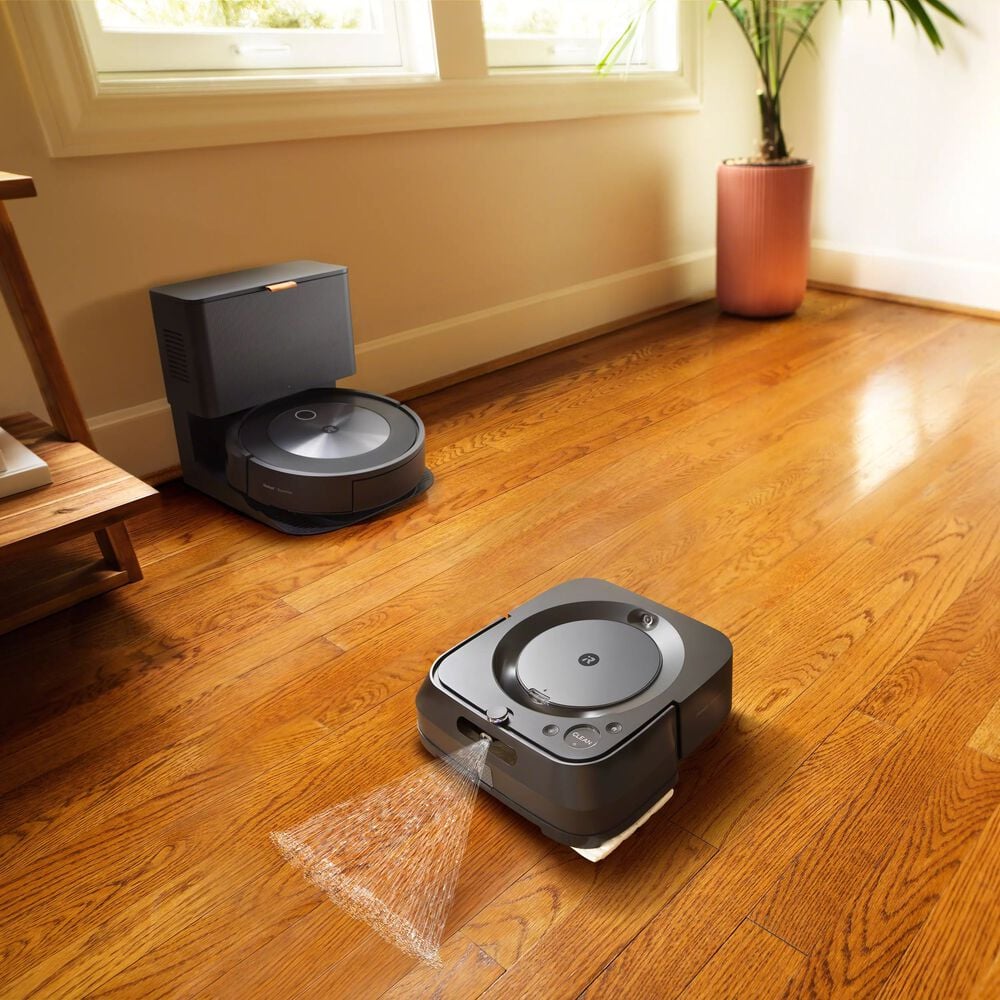 The dream team of clean
Take vacuuming and mopping off your to-do list – all at once. With Imprint® Link Technology, your Roomba® j7/j7+ Robot Vacuum and Braava jet® m6 Robot Mop can team up to vacuum and then mop in perfect sequence, giving your floors a comprehensive clean without any effort from you.
4/4
iRobot OS powers your robot to do more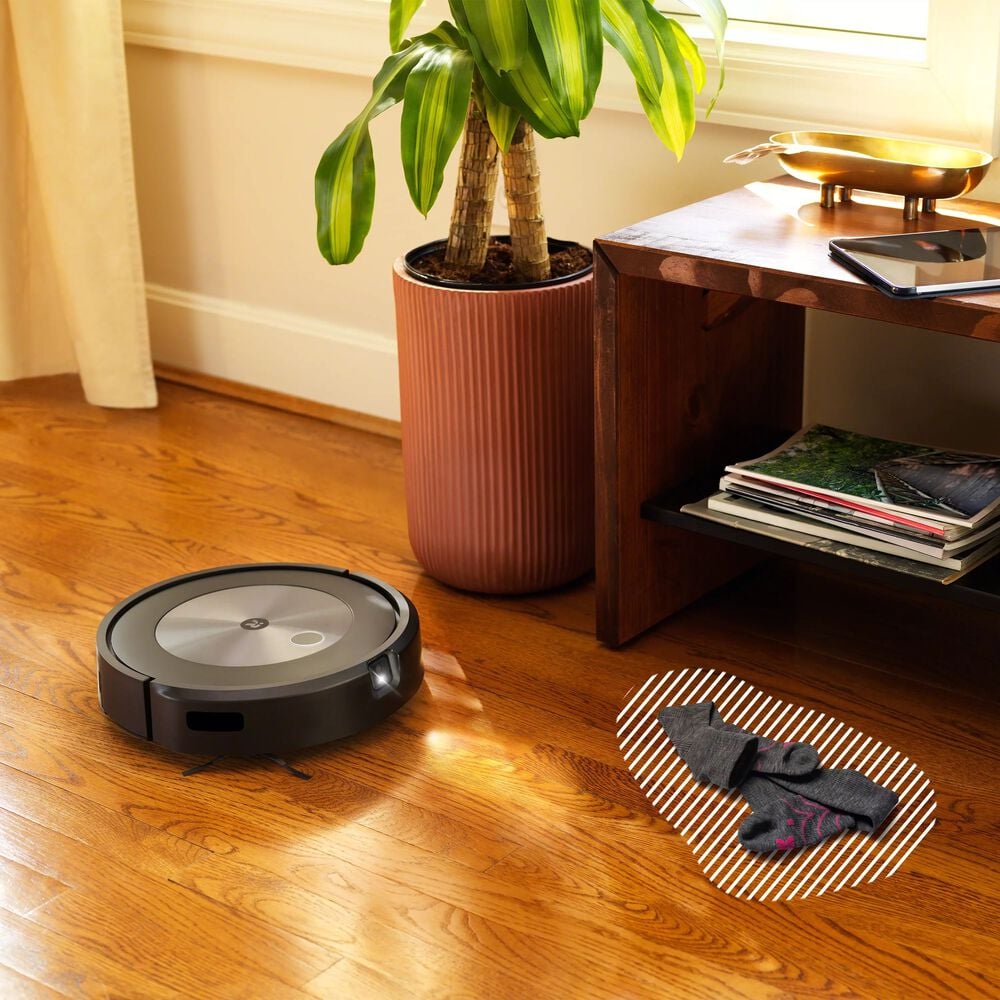 No need to pick up before you clean
The Roomba® j7/j7+ Robot Vacuum uses iRobot OS Technology and PrecisionVision Navigation to recognize and avoid common objects in its way, like cords, pet waste, socks and shoes. Picking up before you clean is now a thing of the past.
1/6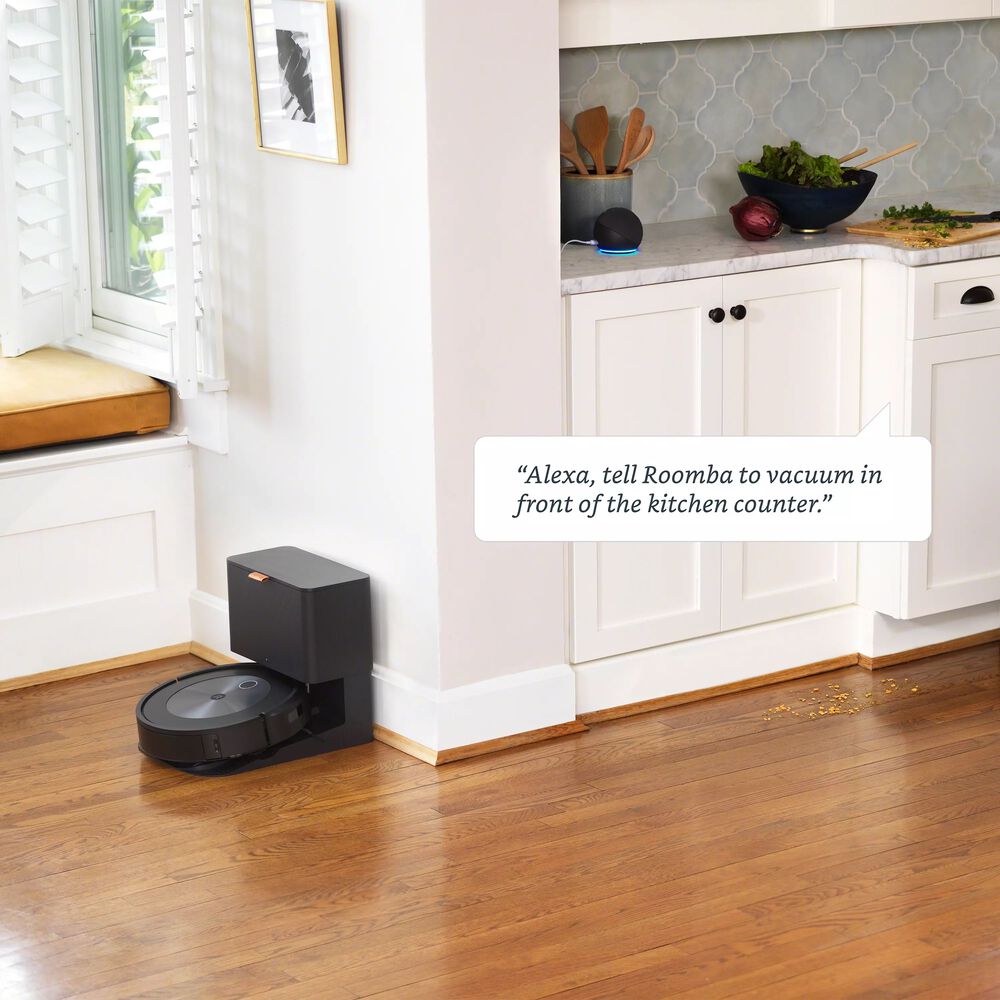 Spot-cleans mess the moment it happens without having to clean the whole house
How many mornings have you been racing out the door when you suddenly see a mess like crumbs under the kitchen table? You don't want to come home to that later. Simply use the iRobot Home App or your voice assistant* to tell the j7/j7+ to immediately clean that spot and consider it done.
*Works with Google Home and Alexa enabled devices. Alexa and all related logos are trademarks of Amazon.com or its affiliates. Google is a trademark of Google LLC. ​
2/6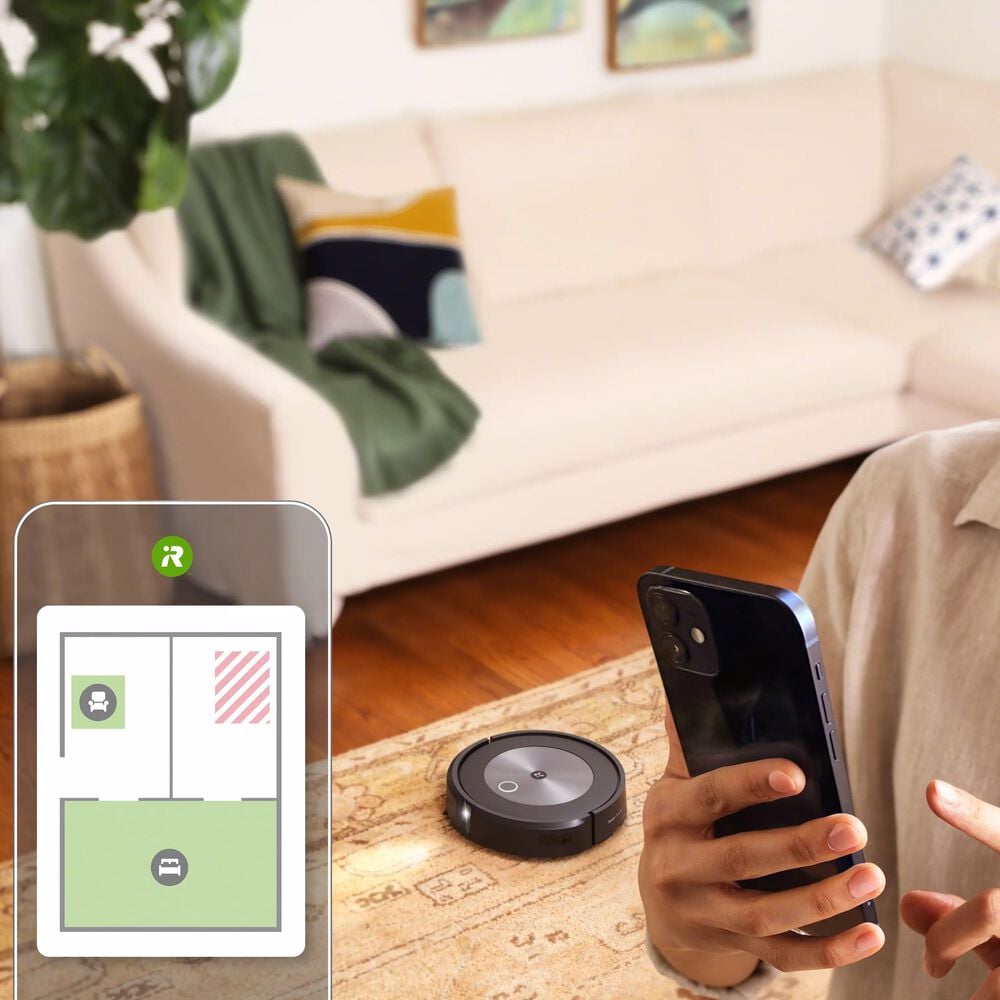 Cleans when and where you want
Imprint® Smart Mapping allows you to control and schedule which rooms are cleaned when, while storing multiple maps for easier cleaning on each level of your home. Your Roomba® robot vacuum maps your home 7x faster* and automatically names the rooms of your home to get targeted cleaning started quicker. Plus, customizable Keep Out Zones and Clean Zones allow you to tell your robot the exact areas to avoid or clean.
*Compared to previous iRobot mapping technology.
3/6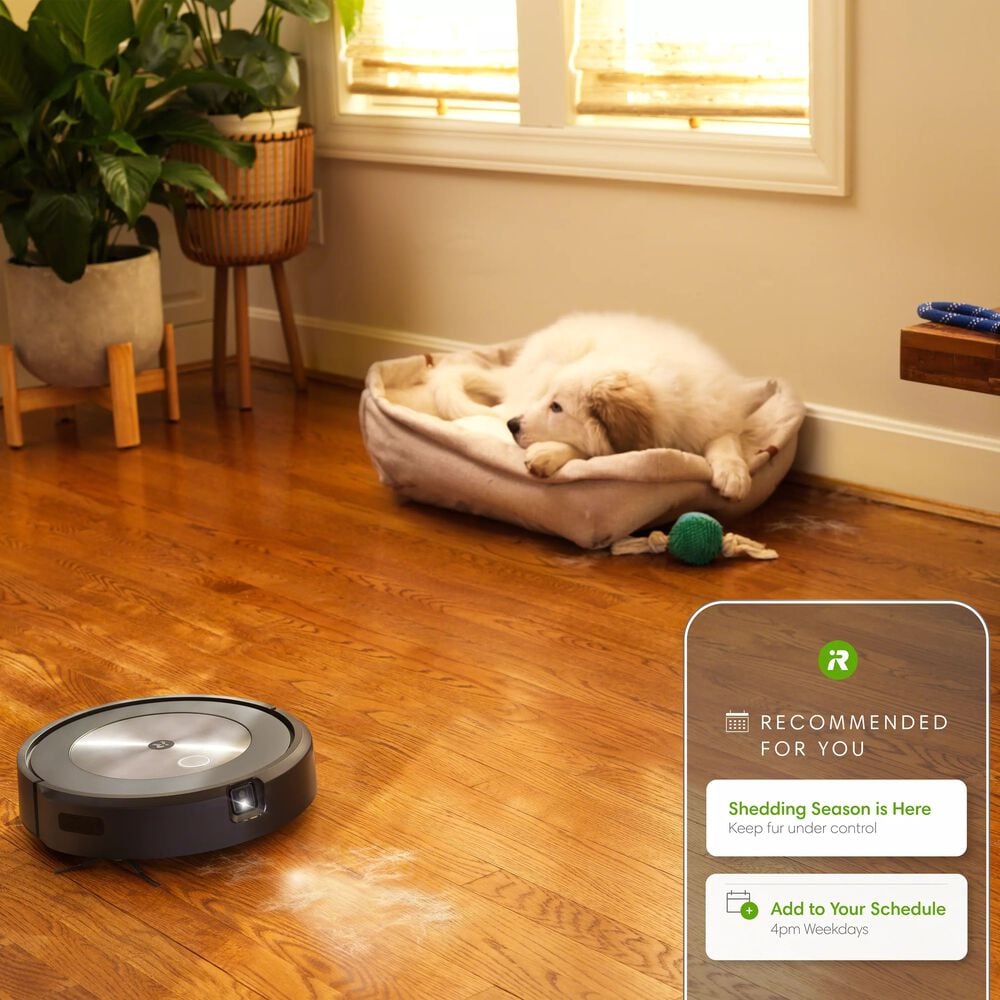 Cleans the way you would
Based on your preferences, habits, home and the seasons, Roomba® j7/j7+ uses iRobot OS to create personalized cleaning suggestions, like cleaning more frequently during pet-shedding or allergy seasons.
4/6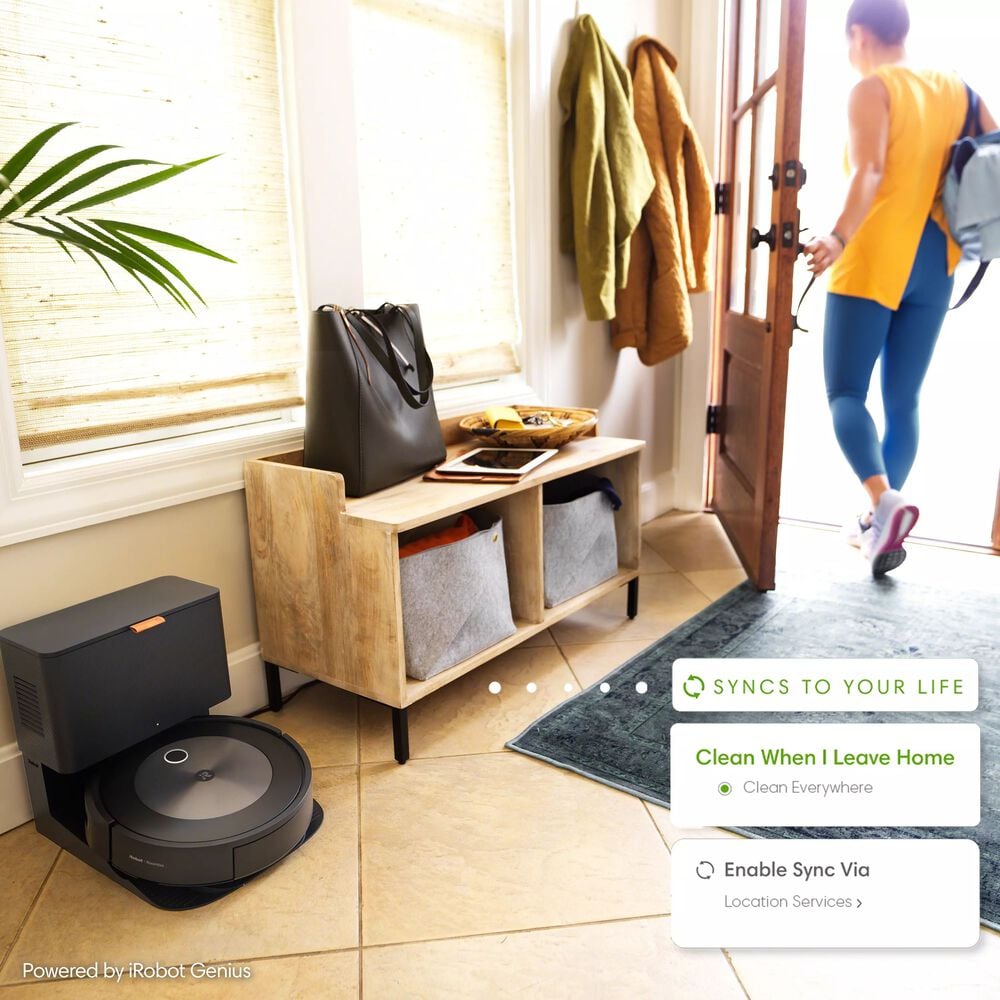 Set to automatically clean when you're away
With iRobot OS, you can choose to set your robot to automatically start cleaning when you leave and stop when you come home, so you only notice the clean and never the cleaning.
5/6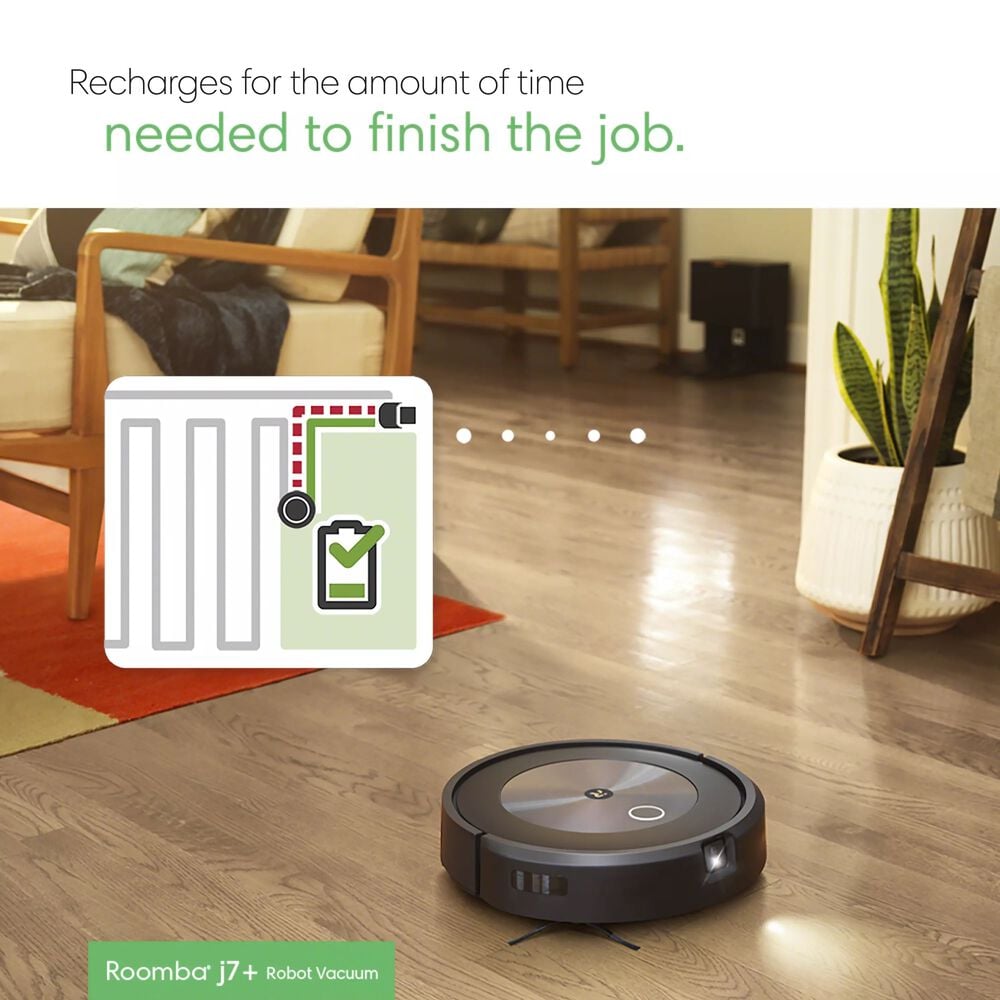 Achieve a complete clean
The cleaning job is completed because Roomba® j7/j7+ Robot Vacuum sends itself to its base to recharge when the battery gets low, and then resumes right where it left off.
6/6
We care about you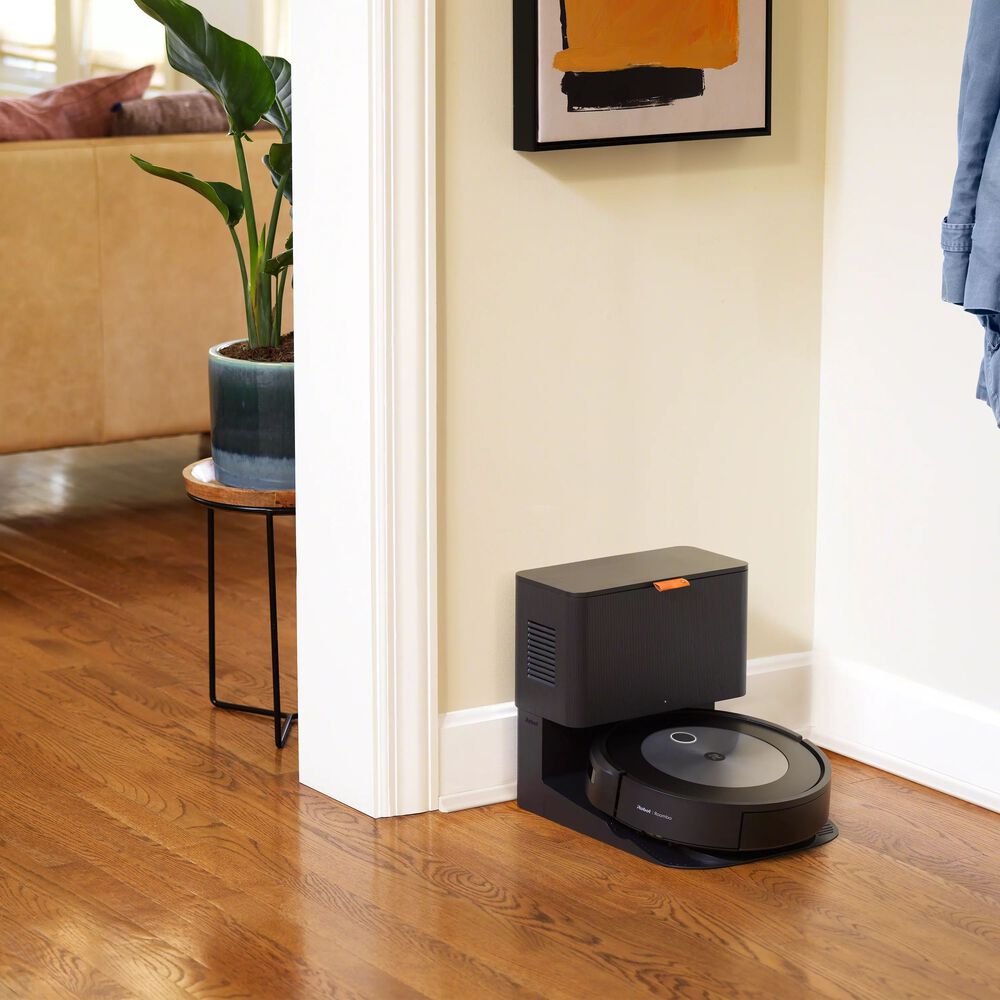 Quality that lasts. Intelligence that grows.
Your robot never stops getting smarter because it constantly receives innovations in its software with the latest tech and groundbreaking features, thanks to iRobot OS.
1/3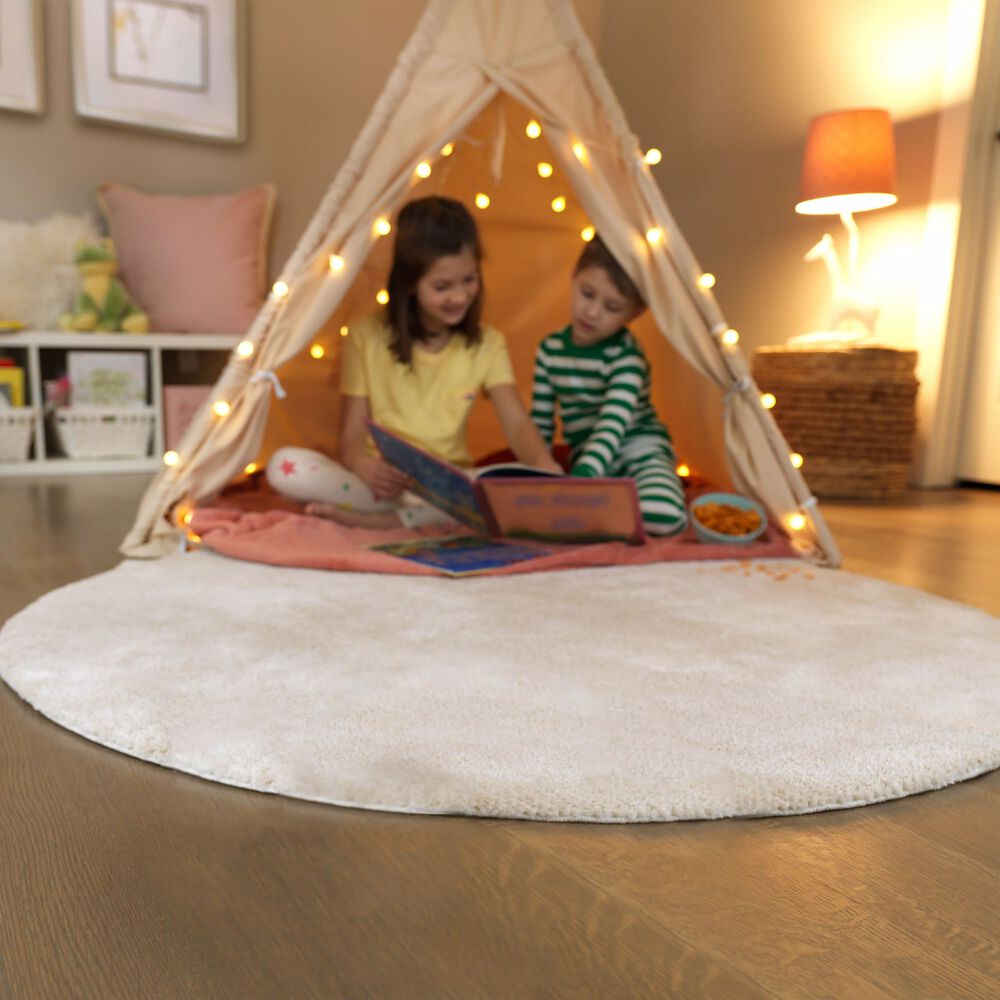 Keep your home clean and your data safe
iRobot customers have welcomed our robots into their homes to provide a safe, effective cleaning service. Our respect for your personal space extends from the physical to the virtual by using only the highest data security standards: iRobot always uses the highest standards of data encryption, backed by our promise to keep your information safe. It uses the data to provide a better experience and to help your robot perform at its best.
2/3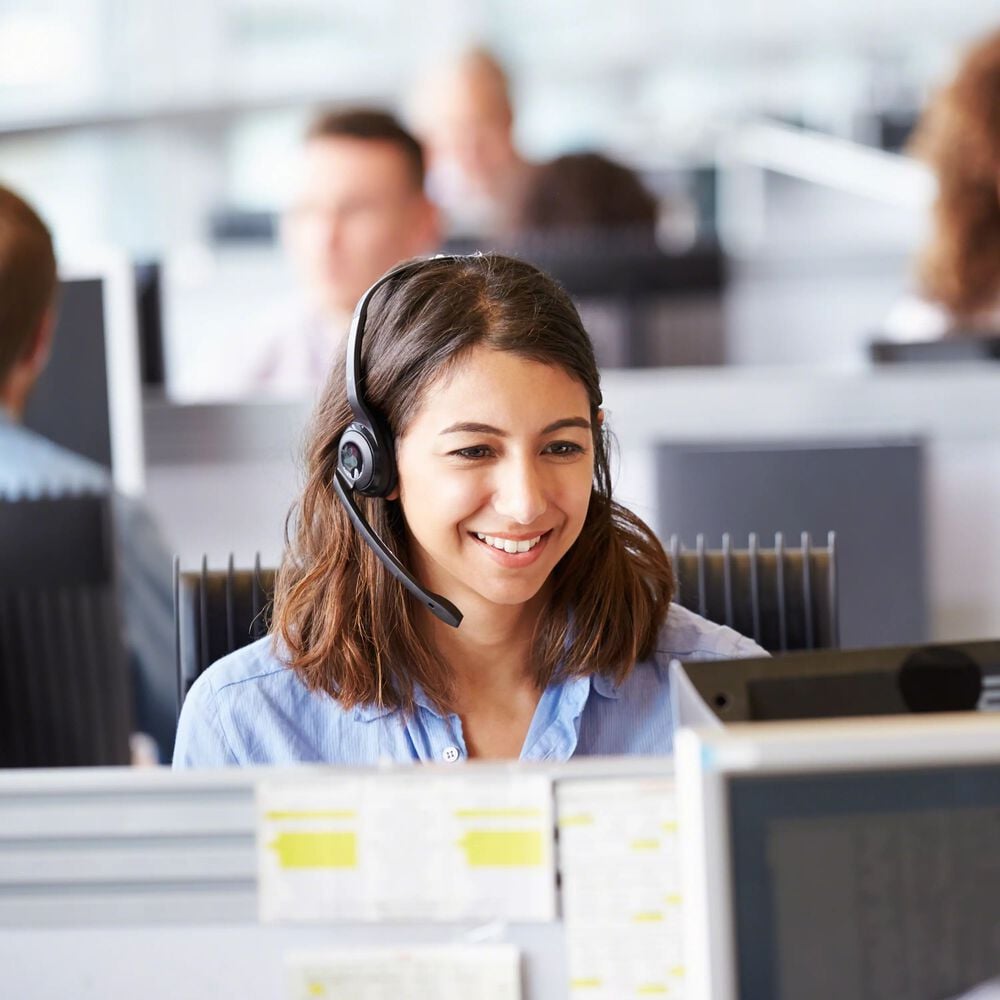 Over 30 years of robotics expertise and continuous innovation
iRobot has over 30 years of robotics expertise and innovation with over 30 million home robots sold worldwide. The iRobot promise has meant dependability backed by a responsive service. If you ever need help, we make it easy with specially trained Customer Care agents available by phone or email to answer your questions.
3/3
What's in the box:
1 Roomba® j7 Robot Vacuum
1 Home Base® Charging Station
1 Extra High-Efficiency Filter
1 Extra Corner Brush (black)
Specifications:
Retail box Dimensions: 16.5 x 17.8 x 5
Robot Weight: 7.49 lbs.
Robot Dimensions: 13.3 inches width x 3.4 inches high
Battery Type: Lithium Ion
The iRobot limited warranty shall not apply to failures or problems which are caused by products or equipment not authorized by iRobot Corporation.

Robot products purchased in North America are intended for use in North America only. Both the 60-day, money-back guarantee and the limited warranty are void if products are used outside North America.
Q. What is the benefit of having the Clean Base® Automatic Dirt Disposal?
A. The Clean Base® Automatic Dirt Disposal eliminates the dusty and dirty mess often associated with emptying vacuum bins. This system's Dirt Disposal bags hold 60 days of dirt and debris. Clean Base® Automatic Dirt Disposal sold separately for the j7.
Q. Will it detect and avoid pet waste?
A: Yes, the Roomba® j7/j7+ robot vacuum uses PrecisionVision Navigation to recognise objects and avoid obstacles like charging cables and pet waste.
Q. What is Imprint® Smart Mapping?
A: Imprint® Smart Mapping technology describes the robot's ability to learn, map and adapt to your home. It learns your floorplan as it cleans and remembers this map for future cleaning jobs. This enables the robot to determine the best way to Clean Base® d on the orientation of each room, furniture placement etc. Once the robot has learnt your space and you have labelled your rooms, set up clean zoom. Your Smart Map also enables you to direct your robot to clean specific areas, specific room(s) or an entire level of your home all from the iRobot Home App.
Q. Does it work with voice assistant*s?
A: Yes, it works with voice assistant*s, like Alexa or Google voice assistant*. You can use them to start cleaning, clean specific area(s), room(s) etc.
¹ Compared to Roomba® 600 series
iRobot.ca makes holiday shopping easy
Free shipping & returns on all robots
Your Privacy Is our Priority
Award-Winning Customer Care